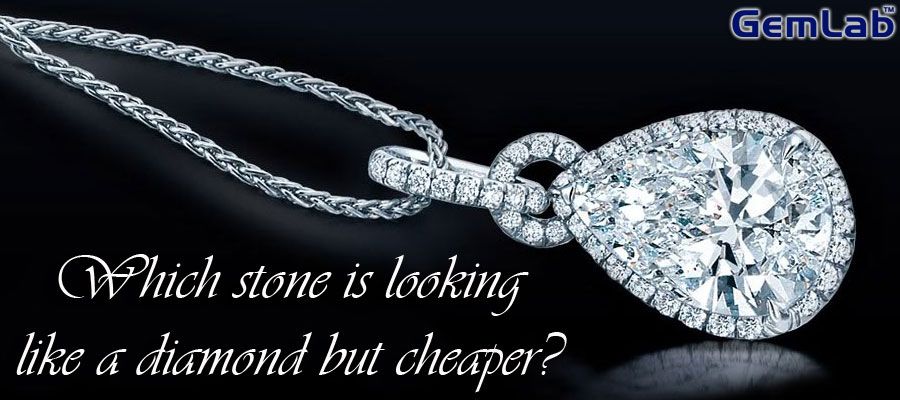 As we all know that diamonds are so expensive and beautiful stones. Every woman wants to wear a diamond once in her lifetime.There are many such stones that look like diamonds but cheap in price.
But the cost of the diamond stone is so high that any middle-class person cannot afford it. Here I am sharing about those gemstones which look like a diamond, but the cost is very less as compared to diamonds and easily affordable.
Their physical properties are also almost same. Some of these stones are natural in nature and while others are synthetic (lab created).
Take a look at the following gemstones that look like diamonds but are cheaper at the price.
Moissanite:
Moissanite is a form of silicon carbide and is usually produced synthetically. The hardness of Moissanite is 9.5 it is closer to the diamond in terms of durability.
It looks quite similar to the diamond, but its physical properties are different. Moissanite is more brilliant than diamond and also sparkles with more colors when light enters it.
White Sapphire:
Sapphires are the third hardest mineral on the earth. The hardness of sapphire is 9 out of 10 as per the Mohs scale of hardness, that's why they make the perfect diamond substitute.
White sapphire does not give you shine like Diamond, but if it's well cut in such a way then it looks good. Sapphires are also available in many colors. White sapphire is slightly less expensive than Moissanite and it's very durable.
White Topaz:
The next stone is white topaz, which is also looking like a diamond. The hardness of white topaz is 8. As compared to diamond topaz is softer. Diamond is 6 times harder than topaz.
Cubic Zirconia:
Cubic Zirconia is a form of zirconium dioxide and creates synthetically. Cubic Zirconia is famous as CZ it is similar to diamond. Put a Zirconia or diamond, you'll find both Similar. Its crystal clarity is also brilliant, It is a man-made crystal also have greater hardness and flawless.
Its Mohs scale is 8.5 and this stone is also much heavier than diamond. Cubic Zirconia also found in different colors that sounds like a colorful diamond. It is very cheap as compared to diamond. Anyone can buy it so easily.
Garnets:
Garnet is a precious gemstone. It is looking like a red diamond, and the red diamond is most popular and most expensive stone in the world. Garnet is also softer than diamond, and its Mohs scale is 7.5 to 8.5.