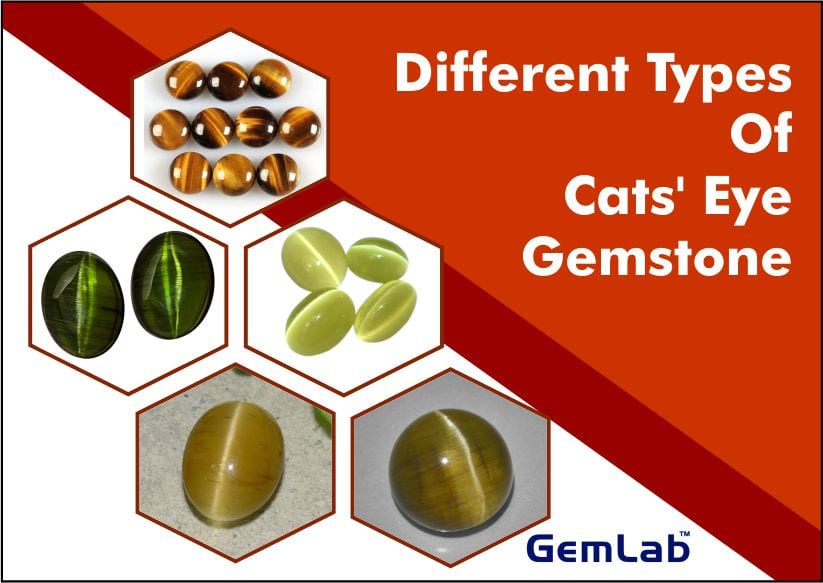 Cat's eye gemstones are a kind of interesting gemstone which have a stunning appearance and changes with the light. It's a visual marvel wherein the gem exudes a slit reflection that resembles a cat's eye, hence the name.
The technical term for this phenomenon is chatoyancy, which is a derivative of a French term meaning the eye of the cat. This phenomenon is found in only a few rare gemstone and lesser-known gems and is even rare in the commonly known gemstones.
This unique phenomenon makes these gemstones collectors' items. They add beauty to the appearance and when it's stud into jewellery it attracts attention. People who don't know about these gems are curious by the glint of an eye they saw in the gem.
Here  We Are Sharing Some Different Types Of  Cat's Eye Gemstones
Chrysoberyl cat's eye
Chrysoberyl cats eye is the best known and the most precious of all the cat's eye gemstone. In fact, it's chatoyancy is so popular that when only the cat's eye name is mention without a kind, it's mean it is chrysoberyl. Other cat's eye gemstones need to be with their names.
It's a hard gemstone which is available in Sri Lanka, India, Zimbabwe, and China. Since it's very hard. It can be use in every kind of jewellery.
Cats eye tourmaline
Among finer gemstones, cats eye tourmaline is a gemstone that shows the property of chatoyancy. It can be available in green or pink and even in large sizes. They are hard enough to be use in rings and are very durable.
Tiger's eye
Several types of quartz exhibit the property of cat's eye but none of them are as popular as the tiger's eye. These gemstones are available in gold-yellow and gold-brown colours. These quartz have formed from a fibrous blue mineral called crocodilte.
Cats eye Apatite
One of the most famous cats eye gemstones is the apatite. The wonder showing itself in the yellow gem is similar to its appearance in the chrysoberyl cats eye. This is, however, a softer gemstone and cannot be used in all jewellery items. It's good for pendants, brooches, and earrings.
There are also other gems in which this phenomenon can be seen but it's very rare which is why it makes them even more precious. A collector knows the value of such gems and understands the significance.
Some of the gems that are rare: cats eye, emerald, iolite, aquamarine, andalusite, tanzanite gemstone, and scapolite. Their rarity makes them priceless and any collector worth his salt will never let go of these gems if he happens to find them.
Cats eye gemstones are finding more popularity these days as people become aware of their speciality and uniqueness. Embedding a cat's eye gem in your jewellery will make for a classic and uniquely beautiful appearance. Depending on your preference and the kind of gems you like, you can find the right cat's eye gem for yourself.