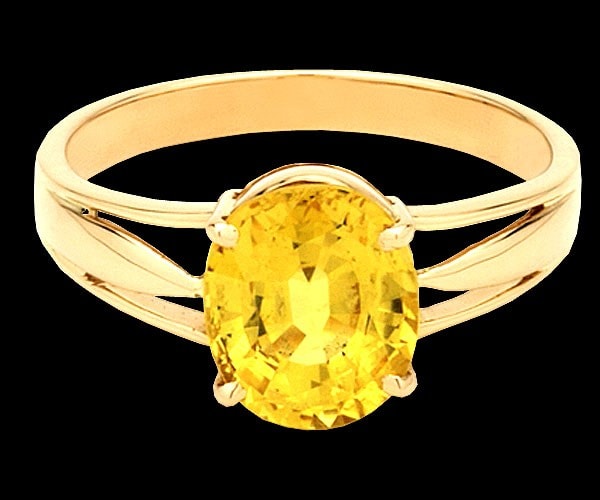 Yellow sapphire is a mystical gemstone, which is associated with the powerful planet Jupiter or Guru, the teacher and wearing it with complete rituals can help you derive maximum benefits.
As the name suggests, this planet is revered among the others in the astrological system, as it occupies a higher position, being the educator.
Jupiter is a beneficent planet, which bestows wealth, prosperity, wisdom, respect, marital bliss, good children and good health on the native.
An individual who wants to appease this planet can do so by wearing yellow sapphire pukhraj gemstone, as it signifies Jupiter and helps the wearer to derive the positive energies of this planet.
One thing which needs to be taken care of is that one should consult an expert astrologer before wearing it, to check out whether this gemstone is compatible with his horoscope or not.
An incompatibility may lead to problems rather than benefits. Also, the gemstone must be worn after proper rituals to fully derive its benefits. Additionally, buyers of yellow sapphire should be careful to buy the best quality yellow sapphire only.
Rituals wearing Yellow Sapphire Gemstone
The first thing to be kept in mind is the weight of the gemstone. In case the age of the native is below 23 years. He should wear a yellow sapphire of a weight up to 5 ratti. The minimum weight should be 3.25 carats. However, after this age, a yellow sapphire weighing 5-7 ratti will be effective.

The yellow sapphire should be studded with a gold ring and worn on the index finger, on a Thursday, which falls in the shukal paksh.

The time of wearing it should be between 6 am-8 am.

The gemstone should be in contact with your skin. It is also beneficial to

buy yellow sapphire

on Thursday.

Before wearing the gemstone, sit in the East, North or North East facing direction, on an asana covered with a yellow colored cloth.

The yellow sapphire ring should be dipped in a mixture of curd, honey, and pure ghee for purify it.

Then it should be washed with holy Gangaajal. Before putting on the ring, you need to chant the mantra of Guru 108 times. The mantra is as follows: 

"Om Gum Guruve Namah"

After you wear the ring, you must donate a yellow edible item such as yellow boondi. Donating money to a Brahmin will also be auspicious to maximize the benefits of wearing the gemstone.

Make sure that you wear a

good quality yellow sapphire (pukhraj gemstone)

, which is free of any kinds of spots, cracks or depressions. It should be lustrous and appealing to the eye.

The influence of yellow sapphire lasts for 4 years, 3 months and 18 days.

You have to keep it clean and well maintain to get its benefits. As It deposits over the gemstone can hinder the effect. Also, You can clean it regularly with a soft brush.
Conclusion
You have to be very cautious about the compatibility of a gemstone with your horoscope, before wearing it. The benefits of wearing it manifests only if it suits you. Otherwise, you may have to suffer a negative impact of wearing it.