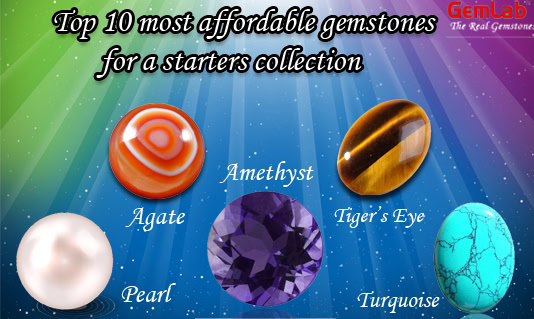 There are more than two hundred known types of gemstones. Nearly all of them are mineral and organic and different from those which are artificially made in laboratories. Coral and pearls are organic varieties of gemstones and found naturally under seabeds. They are quite famous for its aesthetic value in jewelry items.
Gemstones prices vary as per market condition. Prices fluctuate depending upon the demand and supply and physical qualities. As a result, gems like blue sapphire, ruby, tanzanite, diamond comes under the category of precious gems based on the 4 C's such as cut, color, clarity, and carat weight. These gemstones are therefore unaffordable for the majority of people.
However, there are other options available to users who are looking for affordable gemstones to take care of their astrological needs.
Some of the gems are always in abundance in supply and are priced very reasonably. Good quality gemstones prices can be found for as low as 10 USD.
Stones like amethyst, citrine, ametrine, blue topaz red garnets can be a good starting point for those who want to have their collections
Some of the reasonably priced gemstones which can be afforded by most of the people are as follows.
Turquoise Gemstone
Turquoise gemstone (also known as Feroza stone) is a very valued and favorite gemstone. People use it as an ornament and a decorative item and also for astrological benefits. Turquoise is reasonably priced ranging from 1USD to 10USD per carat depending on the quality.
Agate Gemstone
Agates can range widely in appearance and can adopt various colors and branded patterns. Majority of the agates are cut and polished for display and widely used as a semi-precious stone. It is most famous for its unique designs and varieties of color. Agate gemstones are used for the healing purpose and generally ranges from 1USD TO 5USD.
Rose Quartz
Rose quartz stone is a beautiful purplish pink stone which acts as a healer from emotional pain. It is considered beneficial for love and romance. It has been found out that it helps to make the connection and bond with family, friends, and partners stronger. It is the second most abundant minerals on the surface of the earth and can cost 4USD for a pound.
Tiger's Eye Gemstone
Tiger's eye gemstone is typically a metamorphic rock having a brownish red color with a smooth gloss. The equivalent growth of quartz crystals and altered amphibole fibers helps to gain the radiant appearance of the stone. There is a variety of Tiger's cat's eyes like yellow and black, and it comes in cheap compared to other cat's eye stones. With an average price of a few dollars per carat, most customers are familiar with this stone.
Pearl Gemstone
A pearl gemstone is a glittering entity formed inside the soft tissue of an existing shelled mollusk. It is composed of calcium carbonate, which is a mixture of calcite and aragonite. It is a flawlessly round shaped and even stone. The most natural pearls were known for its beauty for many centuries. Freshwater pearls are affordable. Presently, one can purchase a pearl stone for the 15USD minimum.
Citrine Gemstone
Citrine is a second most desired semi-precious stone after blue Topaz. Citrine has distinctive yellow-brownish color and cracked appearance. It is also rare in nature but easy to curate in the lab. The average price ranges from 10USD to 30USD per carat.
Onyx  Gemstone
Onyx gemstone is a variety of the microcrystalline quartz, called chalcedony. Onyx is a popular and affordable stone. It is mineral quartz in India, Brazil, Uruguay, and California. Onyx is black in color and has a fine texture. The value of onyx sells a few dollars per carat.
Jasper Gemstone
Jasper stone consists of quartz and other minerals and comes in various colors. Red is the standard form of Jasper due to ion exclusion. It is mainly used for the healing purpose and used extensively in Feng Shui practice. It comes very cheaply between 2USD to 5USD per carat.
Hematite Gemstone
Hematite stone is a natural stone and used for healing purpose. It is black or dark grey with streaks of red. It is cheap stone costing as low as 15USD per carat.
Amethyst Gemstone
It is a violet variety of the quartz stone. It is an old popular belief that it will save anyone from drunkenness. It is a stone used in jewelry and a traditional birthstone for the month February. The hardness of the mineral is same as quartz that's why it is also used in jewelry. Prices can range from 5USD to15USD depending on its quality.